Prototype History
: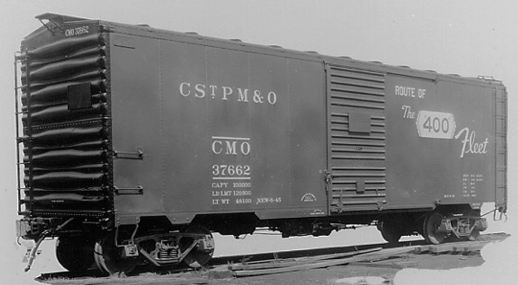 The Association of American Railroads had been establishing design standards for freight cars since the early part of the century. Each new design standard meant higher capacity, lighter, more durable cars. The 1937 standard 40' box car featured an interior height of 10'. Just prior to America's entry into the war, there was a push for an even larger interior height for the AAR standard. The first cars that would eventually be termed 1944 AAR, were actually built in 1941 but the war delayed its declaration as the standard. The new taller cars required a new design of end. Corrugated metal ends had been used since the days when wood side cars dominated for a very good reason, shifting loads would burst through wooden ends during sudden starts and stops! These corrugated panels were stamped in two sections, split horizontally down the middle. The 1937 standard had 5 ribs on one half and 4 ribs on the other -- creating what is called a 5-4 Dreadnaught end. The slightly taller 1944 model required something a little different. The lower panel has 4 ribs while the upper panel has 3 then a space and a final rectangular rib at the top. Called a 4-3-1 (or R-3-4) Improved Dreadnaught end, this design would dominate new box car construction for years.
Road Name History
: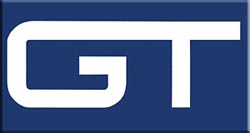 The Grand Trunk Western dates from 1928 as part of the Canadian government's process of nationalizing some major Canadian railroads (under the name Canadian National) including the Grand Trunk Railway which had built the line. The GT lines in Michigan, Indiana and Illinois were combined under the Grand Trunk Western banner. The GTW linked the Canadian border at Port Huron (north of Detroit, Michigan) with Chicago via Durand, Lansing, and South Bend. There were also routes to Detroit, Pontiac, Bay City, Carson City, and the Lake Michigan car ferry port of Muskegon (with ferry service to Wisconsin where GTW maintained a small yard and stationed a switcher.) The GTW had about 1,000 route miles during this period. So, the GTW was an American railroad that was a wholly owned subsidiary of a Canadian corporation, wholly owned by the Canadian government. In 1970, GTW was made a subsidiary of Grand Trunk Corporation (still wholly owned by CN) which also held sister roads Central Vermont, Duluth Winnipeg & Pacific and Grand Trunk (which operated in New York and New England.) This was done to give CN's american employees more opportunities to advance in the organization.
The GTW steam fleet looked very much like what you would see on the CN but GTW's engines were built in the U.S. by Alco, Lima, and Baldwin. A fleet of 58 Alco built Mikes handled the prime road freight assignments until augmented by 43 4-8-4's from Alco and Lima. Parent CN also relied heavily on 4-8-4's so this was not a surprise. The last of these was delivered in 1944. Despite picking up F units and geeps for freight service early on, GTW was late to retire steam. The last run (in passenger service no less) was in 1960!
The first generation of diesels included F's and GP9's (set up long hood forward as on parent CN) followed by GP18's for freight service. GTW went to EMD and Alco for switchers. Road units were painted in a green and gold scheme essentially the same as that of CN but with their own lettering and logos.
In 1962, GTW adopted a new "noodle" logo using the letters GT to conform to CN's own noodle logo adopted two years before. Locomotives were painted black with Morency Orange ends (later replaced with red) with light gray frame stripes and lettering. Cab units received the familiar "sergeant stripe" scheme used on CN. GTW's second generation of diesels (which also introduced the switch to low short hoods and running short-hood-forward) began in 1969 with the delivery of SD40's followed by GP38AC and GP38-2 models. In December of 1971, GTW switched from black to blue with red ends and white frame stripe and lettering.
In addition to acting as a link from Chicago to eastern Canada, GTW was also an important carrier for the auto industry. Their freight car fleet included large numbers of auto parts boxcars and auto racks. In the early 70's, GTW adopted the motto, "the Good Track road" on their freight cars to set them apart from their derailment prone neighbor Penn Central.
In 1980, GTW acquired another railroad critical to the auto industry, the Detroit Toledo & Ironton. This gave GTW routes from Detroit to the Ohio River. A year later, they acquired Norfolk & Western's half of the Detroit & Toledo Shore Line, merging that small bridge line connecting Detroit with Toledo.
At this point, GTW was over 1,500 miles long with 262 diesels and nearly 12,000 cars. In 1995, GTW's parent Canadian National was privatized, at which point there was less need for the US subsidiaries to have distinctly separate identities. Grand Trunk Western continues as a "paper railroad" but operations on these lines are now run as part of the greater Canadian National system.
Brand/Importer Information
:

DeLuxe Innovations is a "wholesale manufacturer" of model trains. We manufacture scale replica train models and sell them to hobby shops and distributors worldwide. 2013 marked the 20 year anniversary of DeLuxe Innovations brand trains. There are over 25 body styles in our product line and all of the cars in our single and multi-car packs have different road numbers. DeLuxe Innovations, Inc. is owned by Dave Ferrari, founder of Squeak N Products. We are located in Midland Park, New Jersey. When Dave purchased the business it was located in Burbank, California which would have been a bit of a long commute so the move to the East Coast was planned. Our first East Coast location was in Whippany, NJ along the Whippany River.
The business was started in 1993 by George Johnsen and Roberta Liebreich in Burbank, California. They had a philosophy that just wouldn't allow using a coal car as a "stand in" for a woodchip car, or printing any and all boxcar paint schemes on a PS-1. Starting with the release of the first ever etched metal parts for a ready to run car (1994's Twinstack's metal walkways) through the full dimension underframe and etched metal roofwalk (1996's 1944 AAR Boxcar) to the challenging RoadRailer system (2000), our products have been accurate to target the modeler or enthusiast.
You can also follow DeLuxe on
Twitter
Item created by:
Powderman
on 2018-10-10 14:24:33. Last edited by
Alain LM
on 2020-06-06 12:07:10
If you see errors or missing data in this entry, please feel free to
log in
and edit it. Anyone with a Gmail account can log in instantly.