History: The largest low-loading wagons are designed as Schnabel wagons, made from two completely separate sections. Each section rests on multiple-axle bogies or groups of bogies. The two sections each support a beak-shaped carrying arm which, in turn, supports one side of a low-loading platform or is directly fixed to the outsize load to be transported. In the latter case the load becomes temporarily part of the vehicle itself. The wagons have hydraulic equipment with which the load can be raised or lowered in order to manoeuvre it past obstacles. There are about 30 examples of Schnabel wagon in Europe, North America and Asia.

Typical loads for these vehicles are large boilers for power stations, turbine components or power station transformers. Due to their heavy weight and outsize dimensions these goods are not usually transported in normal goods trains, but are moved in special trains and need careful preparation. Whenever transportation restrictions arise with a wagon and its load due to its weight and size, it is designated as an abnormal load and must be labelled in accordance with the RIV as a U type. When the vehicle is unladen the two carrying arms are joined directly to one another; the wagon can then travel in goods trains at normal speeds.

Schnabel type Uaai 839 is one of the largest built and used in Europe. With a 32 wheelset, it has a maximum carrying capacity of 454 t (447 long tons; 500 short tons).
Railroad/Company
: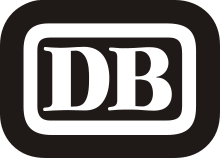 Deutsche Bundesbahn was the Western Germany DB before reunification. After World War II, Germany (and the DRG) was divided into 4 zones: US, British, French and Soviet. The first three eventually combined to form the Federal Republic of Germany (the West) and the Russian zone became the German Democratic Republic (the East). German territories beyond the Oder were ceded to Poland except for the northern part of East Prussia, which was ceded to the Soviet Union in 1945.
From 1949, the new governments assumed authority for railway operations. The DRG's (or DR's) successors were named Deutsche Bundesbahn (DB, German Federal Railways) in West Germany, and Deutsche Reichsbahn (DR, German State Railways) in East Germany kept the old name to hold tracking rights in western Berlin.
Unlike the DRG, which was a corporation, both the DB and the DR were federal state institutions, directly controlled by their respective transportation ministries. Railway service between East and West was restricted; there were around five well-controlled and secure checkpoints between West and East Germany, and about the same number between East Germany and West Berlin. Four transit routes existed between West Germany and West Berlin; citizens of West Berlin and West Germany were able to use these without too much harassment by the East German authorities.
The DB started in 1968 with changing the locomotive and passenger car serial numbers to the UIC norm. In 1970 the DR followed. The DB started experimenting with the Intercity trains in a new livery (bright orange).
In 1989, the Wall fell. Train frequency rapidly increased on the existing East/West corridors; closed links which had formerly crossed the border were re-opened. On 3 October 1990, Germany was reunified; however, this was not immediately the case with the railways. Administrative and organisational problems led to the decision to completely re-organize and reconnect Germany's railways. The so-called Bahnreform (Railway Reform) came into effect on 1 January 1994, when the State railways Deutsche Bundesbahn and Deutsche Reichsbahn were formally reunited to form the current German Railway Corporation (Deutsche Bahn).
From Wikipedia
Item Links:
We found: 1 different collections associated with
Rail - Rolling Stock (Freight) - Schnabel Car - Uaai 839
Item created by:
Alain LM
on 2019-07-16 17:14:06. Last edited by
Alain LM
on 2019-07-16 17:41:29
If you see errors or missing data in this entry, please feel free to
log in
and edit it. Anyone with a Gmail account can log in instantly.