Specific Item Information: Road Numbers: 26299 26327
Prototype History
: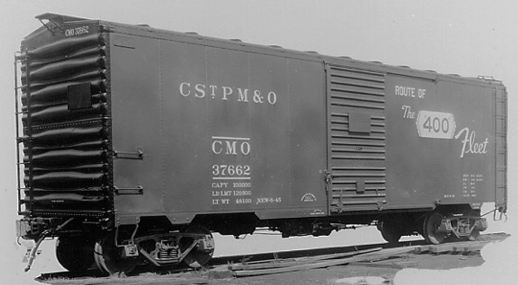 The Association of American Railroads had been establishing design standards for freight cars since the early part of the century. Each new design standard meant higher capacity, lighter, more durable cars. The 1937 standard 40' box car featured an interior height of 10'. Just prior to America's entry into the war, there was a push for an even larger interior height for the AAR standard. The first cars that would eventually be termed 1944 AAR, were actually built in 1941 but the war delayed its declaration as the standard. The new taller cars required a new design of end. Corrugated metal ends had been used since the days when wood side cars dominated for a very good reason, shifting loads would burst through wooden ends during sudden starts and stops! These corrugated panels were stamped in two sections, split horizontally down the middle. The 1937 standard had 5 ribs on one half and 4 ribs on the other -- creating what is called a 5-4 Dreadnaught end. The slightly taller 1944 model required something a little different. The lower panel has 4 ribs while the upper panel has 3 then a space and a final rectangular rib at the top. Called a 4-3-1 (or R-3-4) Improved Dreadnaught end, this design would dominate new box car construction for years.
Road Name History
:

The GM&O was the product of the 1940 merger of Gulf Mobile & Northern and the Mobile & Ohio. During these early years, the GM&O consisted of a route from St. Louis south to Jackson, Tennessee where it then split into 2 routes to the port of Mobile, Alabama. In addition, there were routes to Memphis, Tennessee; Jackson, Mississippi; and Birmingham and Montgomery, Alabama. GM&O also served New Orleans and Paducah via trackage rights. The merger was championed by Ike Tigrett from the GM&N and Ike would lead the GM&O for most of its history.
In 1947, GM&O acquired the Alton Railroad. This linked Chicago and Peoria with St. Louis and Kansas City. This acquisition made GM&O a Great Lakes to the Gulf carrier and pushed the mileage up over 2,700. GM&O tried to sell the Kansas City line in the 50's to Santa Fe and Burlington but there was tremendous pressure from other lines to keep Santa Fe out of St. Louis. In the end, GM&O kept the route and Burlington got trackage rights on a portion of it to shorten its own route.
GM&O dieselized early with the last steam locomotive retired in 1949. The first generation freight diesel fleet included Alco switchers, road switchers (all of which were long-hood-forward,) and FA series cab units and EMD F units. For passenger service, GM&O had power from both Alco and EMD. Everything was painted red and maroon with gold lettering. Both Alton and GM&N had used red in the past so this was appropriate. The oddball of the fleet was #1900, a cab unit model 4-S built by Ingalls Shipbuilding. It was the only locomotive Ingalls would ever build.
The 60's brought fleets of GP30's and 35's. These were delivered on Alco trucks from traded in FA's and wore a new black and white paint scheme designed by EMD. A few years later, more new power arrived from EMD, this time GP38's and SD40's wearing two variations of red and white. First generation diesels still on the roster received solid red or maroon in some cases. The diesel fleet consisted of around 260 units.
As for passenger service, The Rebels ran south of St. Louis with a train each to New Orleans and Mobile. Seven trains a day connected St. Louis and Chicago – more than all other railroads combined between those cities. These included the Abraham Lincoln, Ann Rutledge, and Alton Limited. They also had a single daily Chicago commuter train called The Plug. Amtrak took over three of the Chicago – St. Louis departures in 1971.
By contemporary accounts, GM&O was a class operation with a thin layer of responsive management, esprit de corps in the ranks, and good track - all of this despite serving one of the poorest regions of the country. As the 1960s drew to a close, GM&O faced the impending retirement of the original management team. Because the management layer was so thin, there were few young up-and-comers being groomed to take their places. So, to protect the shareholders, GM&O began shopping for merger partners. In 1972, Gulf Mobile & Ohio merged with Illinois Central to form Illinois Central Gulf.
Brand/Importer Information
:

DeLuxe Innovations is a "wholesale manufacturer" of model trains. We manufacture scale replica train models and sell them to hobby shops and distributors worldwide. 2013 marked the 20 year anniversary of DeLuxe Innovations brand trains. There are over 25 body styles in our product line and all of the cars in our single and multi-car packs have different road numbers. DeLuxe Innovations, Inc. is owned by Dave Ferrari, founder of Squeak N Products. We are located in Midland Park, New Jersey. When Dave purchased the business it was located in Burbank, California which would have been a bit of a long commute so the move to the East Coast was planned. Our first East Coast location was in Whippany, NJ along the Whippany River.
The business was started in 1993 by George Johnsen and Roberta Liebreich in Burbank, California. They had a philosophy that just wouldn't allow using a coal car as a "stand in" for a woodchip car, or printing any and all boxcar paint schemes on a PS-1. Starting with the release of the first ever etched metal parts for a ready to run car (1994's Twinstack's metal walkways) through the full dimension underframe and etched metal roofwalk (1996's 1944 AAR Boxcar) to the challenging RoadRailer system (2000), our products have been accurate to target the modeler or enthusiast.
You can also follow DeLuxe on
Twitter
Item created by:
gdm
on 2021-01-27 15:37:15
If you see errors or missing data in this entry, please feel free to
log in
and edit it. Anyone with a Gmail account can log in instantly.