History
: UTLX 83699 was the very first U.S. RailWhale, and for over two years it was the only U.S. RailWhale. During that time, it was also the largest tank car in North America. When GATX 96500 was completed in September 1965, it became the largest tank car by a margin of 10,000 gallons; but that car was never used in revenue service, so UTLX 83699 holds the record as the largest tank car ever interchanged in revenue service.
Besides being big, the car was built to test a number of other inovations, such as the "whale belly" dual-diameter tank. The cross-section of the tank resembled a figure "8," with a horizontal shelf stiffening the car along the dimples in its sides. Other innovations included lock-up end ladders to keep trespassers off the top of the car and duplicate unloading fittings accessible at the top or mid-side of the car.
Union Tank Car never built another RailWhale, however, the 83699 did remain in the ORER for 20 years. The big car was successfully tested by major petroleum companies and carried promotional advertising from several of them, but it was never duplicated. While a few production RailWhales were almost as big the UTLX car – 34 ESMX cars at 48,000 gallons and three CELX cars at 47,000 – these cars used simple single-diameter tanks. UTLX 83699 did prove that 4-truck tank cars were a sound concept, as 273 similar cars were built before a Federal regulation ended production in November 1970, and some remained in service until they reached the AAR's retirement age of 40.
UTLX 83600 was donated to the the Galveston Island Railroad Museum in 1983, 12 years after GATX 96500 had gone to the National Museum of Transport in St. Louis. During Hurricane Ike in 2008 UTLX 83699 floated up off its trucks and onto the adjacent parking lot. It was subsequently scrapped after the museum decided that it would be too expensive to relocate the car.
From railgoat
Railroad/Company
: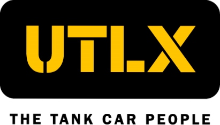 Union Tank Car Company or UTLX (their best known reporting mark) is a railway equipment leasing company (and car maintenance / manufacturing) headquartered in metro Chicago, Illinois. As the name says, they specialise in tank cars, and covered hopper cars. As of September 2005, according to their site, they have about 80,000 cars in their fleet.
Union Tank Car Company was founded in 1866 by Captain Jacob J. Vandergrift, in response to the economic activities of John D. Rockefeller in the years leading up to his creation of Standard Oil. Vandergrift was involved in the conflicts in the oil regions of Western Pennsylvania in the 1860s?1870s. Eventually, Union Tank Car Company and Vandergrift's other holdings, which included pipeline and riverboat transport companies, merged with the company that later became Standard Oil. Rockefeller, once Captain Vandergrift's nemesis, made him Vice President of Standard Oil. The town of Vandergrift, Pennsylvania, built in 1895 by steel company president George G. McMurtry to house his workers, was named in Vandergrift's honor.
TransUnion was formed as a holding company in 1968 to hold Union Tank Car Company. TransUnion soon began began acquiring credit information and information management companies as a second major investment. The Marmon Group acquired TransUnion in 1981, spinning off the TransUnion name and the financial portion of the holding company to Madison Dearborn Partners in the 1990s.
Union Tank Car Company is still owned by Marmon, which in turn is now a 100% owned subsidiary of Berkshire Hathaway.
Item Links:
We found: 1 different collections associated with
Rail - Rolling Stock (Freight) - Tank Car - 94 Foot Whale Belly
Item created by:
gdm
on 2018-09-14 09:15:17. Last edited by
Powderman
on 2018-09-15 10:18:59
If you see errors or missing data in this entry, please feel free to
log in
and edit it. Anyone with a Gmail account can log in instantly.