Model Information: Single Sliding Door Rib Side Without Roofwalk FMC. Originally designed by MDC Roundhouse. This tooling was acquired by Athearn in June of 2004 and re-released under the Athearn name. The MDC releases referred to this tooling as "FMC 50 Foot Boxcar - Single Door". Athearn refers to them as "FMC 5347 Box Car(sic)", but they are the same model.

The MDC Roundhouse releases typically came as kits (though some later releases were RTR) with an unpainted pewter underframe and truck-mounted couplers and blackened low-profile metal wheels. The Athearn releases have a nicer set of wheels (also low-profile). The Athearn models are always Ready-to-Run (RTR). The Athearn models have painted (black) underframes that are also metal (likely pewter or whatever MDC used). Athearn moved the couplers to become body-mounted and changed the coupling system from Rapido to McHenry. After inspecting them closely, I am not sure they can be swapped for MTL couplers without filing off part of the underframe, but I could be wrong. This presents a problem as McHenry couplers don't always play well with other couplers on long consists where that is a lot of force on each coupling point. The body has remained unchanged with the only detail part being the brake wheel.

The newer releases of this body style (as of 2017) market this boxcar as specifically modelling the FMC 5347 prototype.
Prototype History
: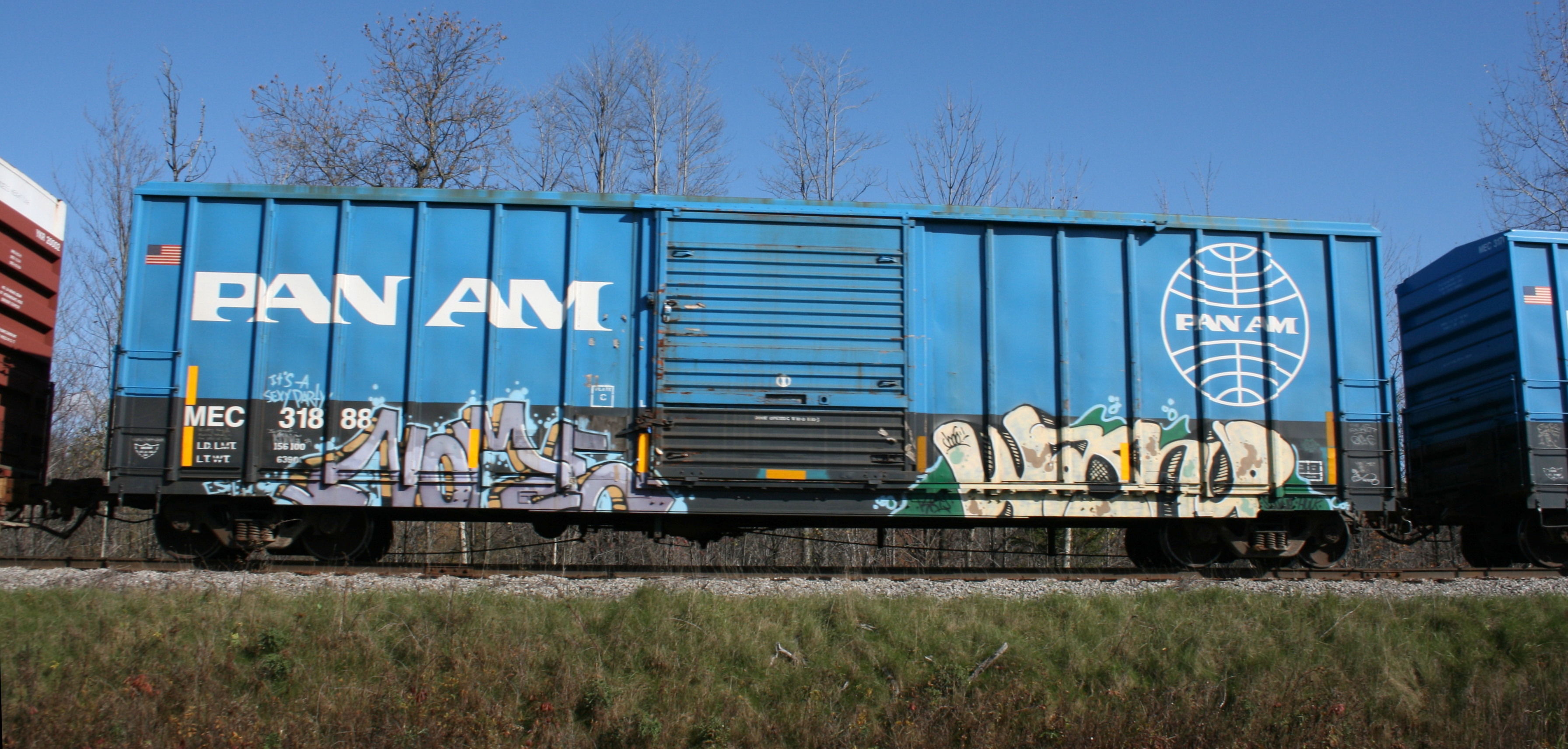 It was the mid 1970s, and the incentive per diem box car boom was just beginning. New, brightly painted box cars seemed to appear overnight. Many were lettered for various short lines. FMC (Food Machinery Corporation) was a significant builder of many of these cars. The 50' outside post, non-terminating end box car, became the foundation for new per diem cars built in the 1970s. The 50' FMC cars also varied in door configuration and style to better suit each customer. These cars can still be seen today at work (2017) on many ralroads.
The main difference between the 5077 cu. ft cars built by FMC vs the 5277-5347 cu. ft cars built by the same manufacturers is the overall height of the car, the smaller 5077 cars were Plate B while the larger 5277-5347 cars were Plate C.
Road Name History
:

RailBox Company (reporting marks ABOX, RBOX, TBOX, FBOX), founded in 1974, was created to address a boxcar shortage in the United States in the 1970s.
The concept behind RailBox, as evidenced by their slogan "Next Load, Any Road!" was that since Railbox was owned by many of the railroads as a privately owned cooperative, their boxcars were not subject to load/empty rules. Railbox cars could be assigned for service anywhere in Canada, Mexico and the United States on lines where an AAR Plate-C loading gauge is permitted. Railbox purchased boxcars from many Manufacturers including American Car and Foundry (ACF), Farmers Machinery Company (FMC), and Pullman-Standard (P-S).
Under the ICC car routing rules in effect at the time, cars owned by operating companies were supposed to be routed back to their owning road as soon as possible or the host road would have to pay demurrage(car storage and handling) charges. This was the cause a shortage of available cars and not an actual shortage of boxcars numerically. As empty cars were required to be routed back to their home railroad instead of being loaded and routed to another destination.
RailBox cars are all boxcars and are painted yellow with black doors. RailBox cars had a bold graphic side logo, which was a stylized X made of red and blue intertwined arrows to symbolize free flow. During the 1970s many railroads had old fleets of railcars. Due to the poor financial state of many railroads these cars were dirty and grimy. Railbox cars stood out with their bright yellow paint and large logos. The company's car reporting marks, as noted above, ended in the letter "X". Under FRA designation reporting marks ending in "X" are assigned to private owner cars.
As of 2015, many RailBox cars are still in service. The rise of intermodal containerized freight (which began in the late 1980s and early 1990s) has reduced the demand for full carload boxcar service. Also deregulation in the 1980s eliminated the legacy car routing rules, reaching its peak with the elimination of the Interstate Commerce Commission in 1995.
RailBox (and the similar Railgon Company) are currently subsidiaries of TTX Company.
From Wikipedia
Item created by:
stevoblue
on 2018-04-02 13:33:53. Last edited by
CNW400
on 2021-05-18 16:41:18
If you see errors or missing data in this entry, please feel free to
log in
and edit it. Anyone with a Gmail account can log in instantly.